TestCrackers has a strong track record of happy students with improved test scores. Check out the reviews below, as well as on Yelp.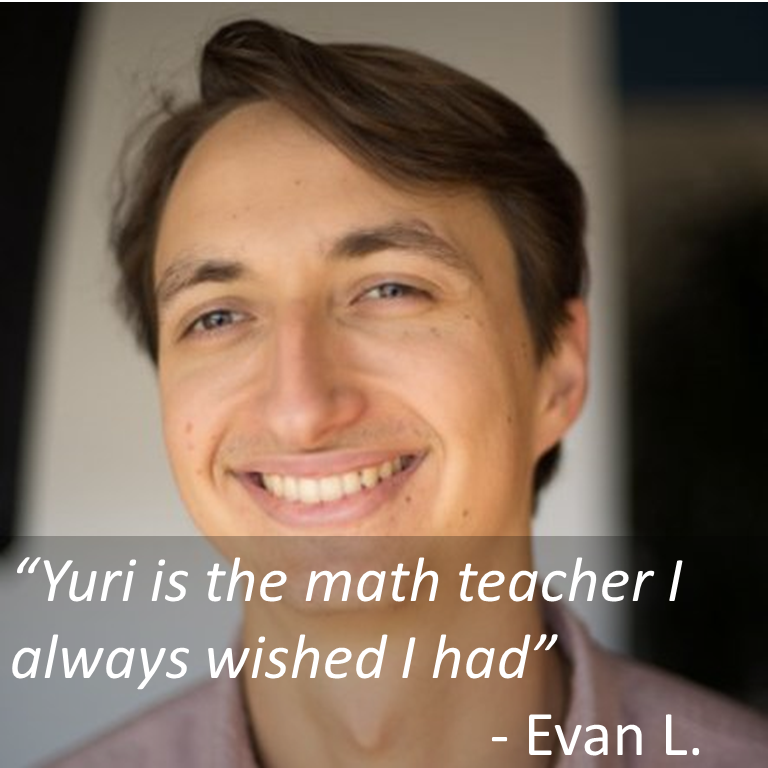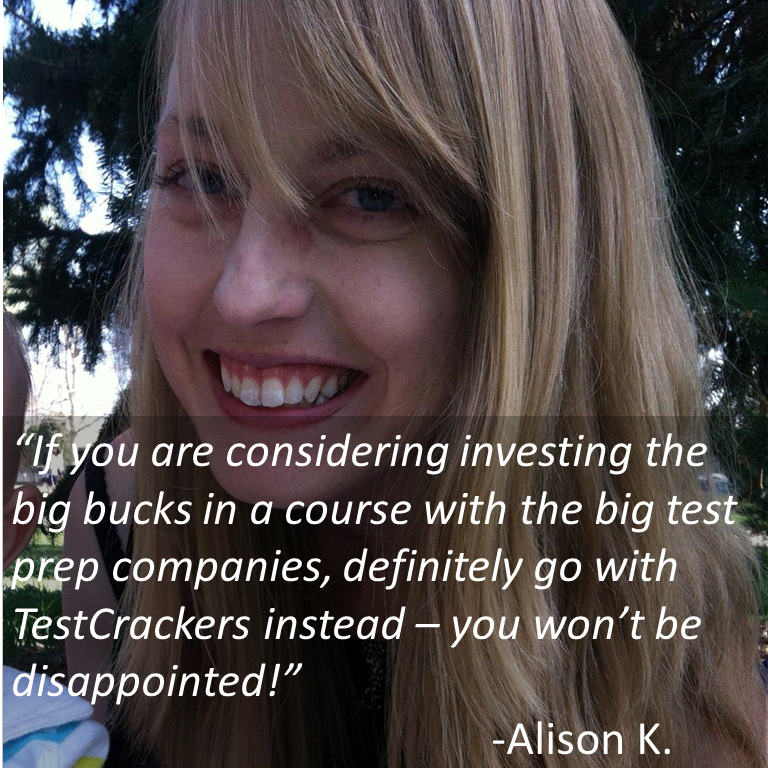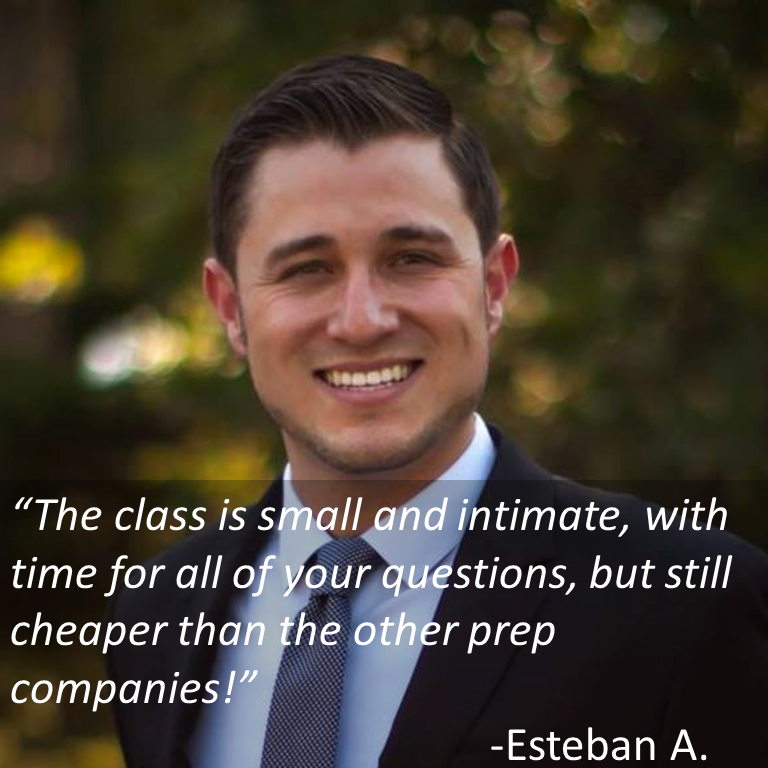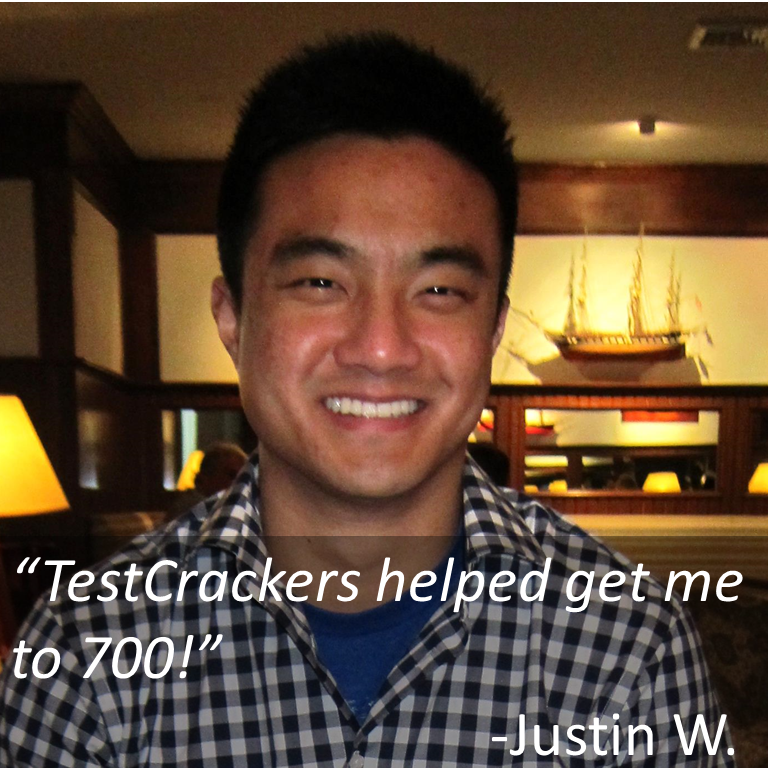 "I found Testcrackers after having one of the "big name" test prep companies cancel the class that I had signed up for. While they pushed an online learning series, I wanted a classroom experience. Personally I find that having a structured regimen helps to keep me motivated.

I had Marty for the quantitative class and Anisa for the verbal portion. Even though I graduated with a degree in English literature, Anisa's extensive experience with standardized testing helped me develop more effective study and test-taking strategies. Since my evaluation test scores were lower in quantitative, Marty's instruction provided valuable review of mathematical concepts, along with strategies to maximize my performance on that section.

I ended up taking the exam about a month after the course ended. I studied on my own in this time, and the materials provided by Testcrackers were extremely valuable for continued self-study. Since they have all their lectures in online video form, it was easy to review the more challenging sections and master them.

I ended up improving my score by 12 points and cracking the 330 barrier with the help of Testcrackers. I recommend their class to anyone who wants to improve their GRE score with the help of a structured classroom environment. Even though I started with a fairly high score already, they teach to all levels and the strategies they provide are applicable to all standardized testing situations."
-Zachary G., Santa Cruz, CA
"I took the Quantitative GRE Test Prep class with Anisa. I was amazed to see how she kept the class engaging and helpful for all members, even with our varying levels of quantitative skills. She was always open to questions, but simultaneously kept the class moving so that we covered all the material. Her patience and skill in explaining quantitative concepts in many different ways, was very impressive. She pushed each member of class just the right amount to challenge them and help them learn, while not overwhelming anyone. She was encouraging and supportive with the mental and emotional battle of taking the test, as well as, the quantitative material. Her brilliance, patience, and teaching skills were outstanding."
-Sara G., Oakland, CA
"This is a review for GMAT Verbal with Anisa. Anisa is a really great teacher, and by that I mean, she is supportive, patient, and an inquisitive teacher. A major part of learning new material is not just with the content, but also the style and environment of the class. Anisa takes the time to get to know who you are beyond your strengths and weaknesses in GMAT verbal. Rather, she aims to understand you as a person, how you learn, and where you might be in your GMAT journey. If you're anything like me, you might be stressing out about getting your score while also balancing work life and social life at the same time. Going to Anisa's class was not only enjoyable, but also reassuring that any anxiety or doubt I was feeling about my score was totally normal, and she would always be a guided resource throughout this testing journey.

She knows the verbal material extremely well and teaches it in a way that is easy to understand and apply to the homework and test problems. She also understands the nuances of how to people learn on an individual level, and provides suggestions and tips that are most relevant to you. She doesn't just help you change the way you think about the material, but also makes you feel more confident in your abilities, which is so important for this test. Learning new subjects is less about the content and more about how you learn, and I think Anisa did a great job of teaching a classroom full of people with different learning styles how to think more critically. I highly recommend taking the verbal class with Anisa if you have the option. I drove from SF to Santa Clara to make the class and I would do it all again if I could)."
-Deanna S., San Francisco, CA
"As someone who has gone through Kaplan's in-person class, and bought the Manhattan Prep materials to study on my own, I say with the greatest confidence that nothing has been more effective than signing up for TestCrackers. The class is located right off of the Ashby BART station, making it easily accessible (especially if you're coming from San Francisco). . .

What really makes TestCrackers stand out for me is that, in a demoralizing exam like the GMAT, the structure of the class is to really make each of the subject areas manageable. The instructors boost your confidence by really focusing on each question. The Socratic method allows you to really absorb the tricks and strategies they teach you, rather than cramming the lesson and forgetting it the next day. . .

I was especially thrilled with all the support and guidance Anisa was able to provide through TestCrackers. Anisa was my instructor for the verbal section, which compared to the quant section, I am much more hit or miss on. But her continued patience and warmth made the three (!!) hours fly by. She gives a high overview on the types of challenges you may run into with critical reasoning questions, how to most effectively handle the reading comprehension, and strategically eliminate answers to quickly attack the sentence correction. She is so thoughtful and organized -- but don't be fooled by her exuding kindness. She is also UNBELIEVABLY smart. By studying her methods and taking on her can-do attitude, I saw a significant improvement in my verbal score.
-Amrita S., San Francisco, CA
"I worked mostly with Seth, only the Quant section for the GMAT. Here are a couple reasons why he completely earned my 5 stars:

1) Quality material, in a system that works
2) Small, focused group = no time wasted
3) 1 on 1 office hours were very helpful in diagnosing where I was struggling in my practice tests
4) Helpful advice on how to think about my application essays and career goals (totally outside the scope of what I was paying him for)

I wasted 3 months trying to study on my own, and did okay (670), but not well enough for my target schools. Seth's course helped me bump my math score significantly, allowing me to crack 700 and get a full ride to my dream school.

100% recommend - thank you Seth for the passion you put into your work"
-Alex R., San Francisco, CA
"I just finished the Verbal section of this course with Anisa and it was honestly far better than I expected. From day one it was clear that Anisa knew her stuff. She walked the class through the curriculum at a great pace, making sure that we all understood the concepts and reviewing anything anyone had an issue with. She made the class fun and engaging which is no small feat at 6:30 after a long day of work. . . I 100% recommend this course!"
-Elizabeth L., New York, NY
"I had the pleasure of taking the GMAT verbal course with Anisa Ray and was completely blown away by her! Her passion for test prep and helping students reach their full potential is evident in everything that she does. Anisa truly invests in you beyond the class, providing suggestions for how to break up the weekly homework content, as well as helping create a study guide once you have finished the class. I couldn't have had a better experience or verbal teacher, Thanks Anisa!"
-Natasha R., Oakland, CA
"Couldn't recommend TestCrackers enough! I took the Quant class with Seth (after not taking a math class in over 6 years) and found the class to be invaluable. Seth is a great teacher, and the testcracker materials and homework were very well-structured. The class format is interactive (you WILL be called on to answer questions), but it never felt judgmental and it was helpful to walk through problems out loud.
Additionally, as others have mentioned - you get so much more with the class than what you're paying for! We had an info session with an admissions consultant, bookshelves of GMAT/GRE quant and verbal books that you can loan study materials from, weekly office hours (on top of class time), and unlimited snacks. . .
Additionally, I worked with Kate Greenthal (one of TestCrackers tutors) after the course had wrapped up to help push my score from mid-high 600s to over the 700 mark. I really enjoyed working with Kate as she uses Testcrackers materials as well and continued to help me refine the strategies that I had learned in the quant course. She is supportive, easy to work with, and helped me meet my goal!

MGMAT Practice Test #1: 600 to GMAT: 710 (with a 10 point (!!) increase in my [scaled] quant score)"
-Catherine S., San Francisco, CA
"Awesome test prep service. I decided to go with them because of their amazing yelp reviews, and they did not disappoint. Because they are a small operation, they are very personable, down-to-earth and responsive. They have a tremendous amount of experience, and are also just great guys. My GRE courses were 3 hours per session, yet I rarely looked at the clock.

There were students in my classes that drove upwards of an hour to come, and they all agreed that it was completely worth it. I had a low-stress, positive experience, and I would recommend them to anyone. Thank you Seth/Yuri!

UPDATE: my final GRE score boosted about 15 points after TestCrackers (which is about a 40th percentile change)."
-Max P., Berkeley, CA
"I had the chance to work with Marty Cinke while studying for the GMAT. I started from scratch and Marty helped with everything from content to testing strategy. He was very knowledgable and helped me get from a 500 on my first practice exam to over 700 in ~10 sessions. He was helpful not only in our sessions but very responsive outside as well, whether about scheduling or about the test itself.

He truly cared how well I did on the test and helped me achieve my goal. I'm hoping I don't have any more standardized tests to take but if I do, I'll turn to Marty first. I'd recommend him to anybody who is working and studying simultaneously as he'll help set a strategy and keep you on pace to achieve your goal too."
-Morgan L., San Francisco, CA
 
"I wish I could give 6 stars to Test Crackers. If you read no further my advice to you is to skip the big, impersonal test prep courses and opt instead for 2 passionate, enthusiastic, highly effective and extremely approachable teachers. Yuri and Seth will help you reach your goal score and keep you laughing and encouraged along the way.
After high school, I had written myself off as "not a math person" and avoided taking, studying, or using math at all for ten years. . . I was so excited when I found Test Crackers. Yuri's Quant class is the opposite of intimidating, the class is small and Yuri works hard to create a comfortable atmosphere where you feel free to ask questions and make mistakes as you work your way to quant greatness.
As a strong verbal student I was less concerned about my verbal score but wanted to brush up on my strategy for the question types on the exam. Seth has crafted an awesome course that gives you the tools to defeat even the most complex verbal questions and essay prompts. In just a few weeks with Seth my verbal score jumped from the 71st percentile to the 87th percentile. How's that for results?
Stop shopping around and go get your study on with Test Crackers, you'll be happy you did!"
-Kelly Y., Oakland, CA
"I'm heading to my dream MBA program in the fall, and I would not be in this position if it weren't for my experience working with Yuri and Seth. Last spring, I did the GMAT quant course with Yuri and private verbal tutoring with Seth, and I highly recommend working with these guys. They genuinely care about their students and create a great atmosphere for learning.
I came to them having already bought and completed a big name online prep course which brought me to the low 600s. After working with Yuri and Seth, I scored 750 on the real test and only had to take it once! I wish I had worked exclusively with them from the beginning."
-Annie M., Oakland, CA
"GMAT MBA.com practice test score pre-TestCrackers: 640
GMAT final score after TestCrackers: 710
Words cannot express how grateful I am for these two. In the beginning, I really struggled with the verbal section. Seth taught this section and really helped me get to those "aha!" moments where the material/strategy/grammar rule suddenly clicks. . . on my first practice exam, my raw verbal score was a 33, but by test day, my verbal score was a 42.
The quantitative section is its own beast. Yuri ran the show for this section of the GMAT course. I was shocked at how simple he made the problems feel. He taught us several tricks which saved my butt on the actual test.
By the time the test rolled around, I felt confident and ready. The structure of the class and homework helped me build up my focus, and by the time the test rolled around, I felt like I had the stamina needed to push through. In the end, I received a 44 on Quant, 42 on Verbal, and an 8 on integrative reasoning for a 710 total score.
I am truly grateful for this course. I never imagined that I would break the 700 mark on this test and I know that I could not have done it without the help I received from Yuri and Seth at TestCrackers.
If you're considering the GMAT, do yourself a favor and sign up with TestCrackers."
-Peter G., Palo Alto, CA
"I enrolled and completed both the Verbal and Quant GRE preparation classes offered by Testcrackers. Seth and Yuri are very good at what they do, and they are also immensely passionate about helping their students to be successful. Because of my participation in these classes, both of my test scores were measurably increased. Testcrackers provided me with the tools, resources and strategic guidance for getting the best scores possible. I couldn't imagine any GRE prep teachers who would've been better than these guys. Thanks Seth and Yuri!"
-Adam S., San Francisco, CA
"I never post Yelp reviews but I had to make an exception for the amazing team at TestCrackers. . . Even from the first class, I walked out of the classroom feeling inspired and I always looked forward to returning to class each week. Seth forms great relationships with each of his students and genuinely cares about each student's success. He is a fun teacher that knows many great insights about the structure of the test, timing strategy, and GMAT content.

If you live near Berkeley and are choosing between a big box company, such as Manhattan GMAT or Veritas, or TestCrackers, the decision is simple. I doubt any big-box company provides the same level of content, a 12-person class size, and two hours of small-group quant tutoring EACH WEEK on top of the general class. Oh, did I mention that TestCrackers is also less expensive than each of the former options? No brainer. . .
With the help of TestCrackers, I was able to score a 760 on the GMAT and cannot wait to apply to schools in the Fall."
-Rikinder M. Pittsburg, CA
"I had a fantastic experience taking both GRE courses from Yuri and Seth. I took them separately, which worked well for me since I work full-time and there is a lot of homework. I ended up improving 14 points (up 7 points in Quant and 7 in Verbal) as well as getting a great score on the essay portion. Both Yuri and Seth do a great job of breaking down the different topics, providing test taking strategy, and answering questions. Most importantly, I really appreciated their humor. It's pretty dry material, but it never felt like a chore going to class which I definitely needed as test-prep fatigue started to set in towards the end of my studying. Additionally, they were both great resources after I finished the courses. Yuri even helped me come up with a study plan for Quant from when the class ended to when I eventually took it. Couldn't have asked for a better class!"
-Sarah F., San Francisco, CA
"I took the GRE verbal class with Seth, and that was the best investment I ever made! The small class sizes and teaching methods that Seth used were the highlights of this class. I enjoyed going to class every week and could see noticeable improvements in my verbal score as the class progressed. I got above the score I wanted and am very satisfied with my experience at TestCrackers. I would strongly suggest this class to anyone who is wanting to improve their GRE score. They were also very helpful and accommodating in helping me find a class that worked around my work schedule. Overall, it was a fantastic experience! Thanks Seth!"
-Kiran U., Freemont, CA
"These guys are fantastic. You will learn a ton and they will do whatever they can to help you. One of the best decisions I made toward getting into b-school. They helped me enormously (including giving me awesome advice) and I ended up getting into my top pick school: Haas."
-Kai A., Berkeley, CA
"I could not have picked better options than Yuri and Seth's TestCrackers verbal and quant classes for the GMAT. I considered taking Manhattan classes, but was frustrated that there were no reviews on the teachers, so I wouldn't know what kind of teacher I was getting. . .
It is such an intense process applying for business school and the GMAT is just plain hard. For me, math specifically and standardized testing in general has always been challenging and I dreaded beginning the process. However, once I started taking classes with Seth (for verbal) and Yuri (for quant) things became less daunting and dare I say it, kind of fun. The reason they both stand out to me is how responsive and encouraging they both are. If I sent either of them a problem that I was having, a question that I wasn't understanding or needed an analysis of my practice test scores, they would respond within 24 hours. If you put in the time and the effort, they meet you where you are and help motivate you to get where you need to be. After finishing the class I now feel much more at ease with taking the GMAT and am confident that I can get the score I want. Thanks Yuri and Seth!"
-Ariel W., San Francisco, CA
I was very skeptical of TestCrackers when I found it on yelp in a desperate attempt to improve my GRE quantitative score. All five-star reviews? Was this site rigged by the employees/owners? I was dreading the GRE due to terrible experiences with tutoring for the SAT and ACT, and I was desperate enough to take a look at their website to see what made this place "different." . . .
I signed up for the GRE quantitive focused course, and I'll never regret it. Yuri is an awesome teacher who cares about each person in the class and wants to see us all succeed. Even once the class was over, he offered to help us create study guides or go over any questions that stumped us. Classes are small and each student is encouraged to participate by working on a problem out loud. As an introvert/shy person, that was intimidating for me at first, but it really helped boost my confidence, and the classroom environment is one of support and encouragement (because we didn't always do the problems right!). The classroom was nice and they even provide water and snacks! . . .
My quantitive score did go up once I took the actual GRE and I was accepted to my top choice graduate programs. I highly recommend TestCrackers, whether you're a whiz or you don't know how you even graduated from college. They truly are the real deal and they deserve way more than 5 stars for their kindness, support, and ability to make anyone into a better test-taker. :-)"
-Amanda M., San Francisco, CA
"TestCrackers was a great investment for me! I took the GMAT quant and verbal courses from Seth and am so thankful that I did. Seth isn't just a great teacher, but he genuinely cares about your success. . . I commuted from south of SF twice a week (not a fun drive during traffic), but I would do it again in a heartbeat. The quality of instruction from TestCrackers is more than worth a few extra minutes in the car (or BART). Because of Seth, I am confident that I will get into my target school. If you live in the area and need help tackling the GMAT, TestCrackers is the only way to go!"
– Aaron R., San Francisco, CA
"Yuri changed my perspective on approaching problems I couldn't solve beyond the scope of the GMAT. He is encouraging, patient, and a master at helping you think of trouble areas in a new way. Yuri believed in me throughout the entire testing process which will do wonders for your self-confidence when test day approaches. I had previously taken a prep class from Manhattan and after taking a course from TestCrackers I was blown away by the difference. Class sizes are small so participation is critical which lends to a very effective learning environment. I would recommend working with Yuri to anyone who wants to improve their test score and attitude. Yuri makes solving problems amazingly fun."
– Salma R., San Francisco, CA
"I highly recommend Yuri and Seth for GMAT prep.
I took another course first and also studied on my own for 6-7 months before I took the GMAT for the first time. I thought I was well prepared when I scored only 590 last year. I took a year break and started looking online for teachers that provide private lessons. Then, I contacted Yuri as his tutoring had 5 star rating on Yelp. When I told him my points/% in Quant and Verbal he recommended that I took the class rather than spend a lot more $ on private lessons. I signed up for both the Quant (with Yuri) and the Verbal (with Seth) classes at the beginning of this year. . . Both classes were really helpful. I took the test a month after the classes ended and scored 620. However, I knew I could do better and continued studying and re-took the test a month later. During this month, I took 3 two-hour long private quant lessons with Seth (both teachers are good at both Verbal and Quant). My last score was 670. I would say this is a huge progress from last year - from 590 to 670. My quant score went from 44 to 47 points and my verbal from 28 to 35.
If you want to increase your score, you should definitely take Seth's and Yuri's classes. You need to study really hard as well. But they will motivate you, show you tricks and help you progress."
– Gabriela I., Oakland, CA
"I highly recommend Yuri and Seth for GMAT preparation. I had a very tight schedule and needed 1x1 tutoring for the specific topics on Quant and Verbal. Each was quick to respond to my request, flexible in scheduling and we were able to set up time using video conferencing for the sessions. Their methods were clear and easy to apply. I wish I had more time to take their full course but there was not enough time. They were both excellent teachers and the sessions will help you improve your score!"
– Tiffany C., San Jose, CA
"If I had Yuri tutor me in math in high school/college, my whole attitude toward math would have been different. Not only does Yuri understand the concepts and explain them well, he seems to genuinely enjoy what he does and he takes a vested interest in how his students do. His enthusiasm makes math (which scares the crap out of me) actually kind of fun and interesting . . .The class requires a lot of participation (which kinda freaked me out at first) but he makes sure the atmosphere is unintimidating so the participatory nature of the class helped me stay awake.
I've taken classes for other exams with Kaplan and Princeton Review. Those consist of a bored proctor reading from a teacher's guide to a lecture hall full of students. TestCrackers is the opposite of that. The classes are small, the teacher is engaged, and the students are awake and participating.
The material is really well suited for the course. He picks representative questions and provides us with a huge amount of study resources. He even offered to help design individualized study plans (and act as a weekly enforcer) for those of us who feel unfocused after the course. That level of investment in student success is way too rare. I would recommend Yuri to anyone seeking math test prep for the GRE or GMAT."
– Anju B., Palo Alto, CA
"I highly recommend Yuri's Quant class as an excellent way to prepare for the GRE. It's been about 10 years since I did high school math, so I was desperate for help getting back into it. I thought about taking a Manhattan Prep or Princeton Review course, but ultimately decided on Testcrackers because of the awesome reviews from students, small class size, and comparably low cost.
Yuri's class went above and beyond my expectations. Not only has Yuri developed tried-and-true tips for getting through the test, but he also creates an atmosphere of non-judgement and encouragement in his classroom. I left every class feeling more confident in my abilities. By the end, Yuri's love for math started to rub off on me -- sometimes I (ALMOST) looked forward to doing a chapter in the 5lb book!
Unlike larger test prep courses, Yuri clearly cares about his students' success. Once the class was over, Yuri didn't disappear; he helped me develop a daily study plan until the day I took the exam and was more than happy to set up a few Skype lessons to go over any last minute questions I had. When anxiety hit a few days before the test, Yuri was there to make sure I felt confident and ready to kick ass on test day. :)
I can't say enough good things about Yuri and his Quant class. If you're still deciding whether or not to invest the big bucks in another course run by the big test companies, definitely go with Yuri - you won't be disappointed!
– Alison K., Oakland, CA
"Yuri is a wonderful instructor! I took his GRE quant course and I am very glad I did.
I need to start off by saying that I am pretty much allergic to math. Even the simplest math like splitting dinner bills is something I try to avoid whenever I can. However since I decided to apply to grad school, I had to do something about it.
His materials are very through. Each lesson is very well structured. He makes sure that everyone understands the material before proceeding. And what I liked most about his course was that nobody (Yuri and the class mates) made me feel stupid or inadequate for asking really basic questions.
He knows the way to lead you to the right answer without telling you how it's done. It's almost like he can see through what's going on in your brain and is able to twist it so you can get on the right track. This might not make sense, but you will understand once you take his classes. Magic!
I have not yet taken the actual GRE, but after 5 weeks, I went from avoiding dinner bill calculation to scoring 160's constantly on practice tests. That's quite something, don't you think?
If you are debating between Yuri vs. those big name companies, try Yuri first. You will not regret it.
I was so happy with his GRE course that I raved about it so much at home; my husband is now taking Yuri's GMAT course (even though it's an hour drive from home). Ha!"
– Mari U., Santa Clara, CA
"Let me start this review off by thanking Yuri for being a great coach and mentor on the GMAT. There's no way I would have been able to score as high as I did on the test without his help.
I dream about going to business school and doing an MBA like many of Yuri's other students. This March, I decided that it was time to make my dream come true. I purchased Manhattan GMAT and GMAC study materials and got going. My arrogance led me to believe that brushing up on some theories and concepts was all I needed to score well on the test. Boy was I ever wrong. Yes, I re-learned most of the theory on what is tested but I had major issues applying that theory on the test. By the end of May, I was still nowhere close to where I needed to be (stuck in the low to mid 600s). Luckily, a quick Yelp search led me to Yuri. I decided to give his quant course a chance because of all of his stellar reviews. Best.. Decision.. EVER!
Yuri genuinely has a love for teaching. You can tell he enjoys what he's doing during courses and he has a vested interest in his student's success. His quant course gave me the confidence, and more importantly, the tools to excel on the quant portion of the GMAT. He taught me how to approach the questions in the most efficient way. Personally, I'm more of a visual and interactive learner so my experience with Yuri was invaluable."
– Andrew P., Burlingame, CA
"I took Yuri's GRE Quant Test Prep class this summer and it was amazing! Math has always been a weak area for me and studying on my own was getting me nowhere. Yuri is a super down to earth guy and the environment that he creates is really supportive and none judgmental- this was key in helping me build confidence with the material/test. Yuri also has the unique gift of making math fun and accessible. I was impressed at his ability to guide students so that they could work through and tackle tough concepts/questions, he never gives you the answer but will provide support and guidance instead- super empowering! Also the structure and presentation of strategies/concepts is excellent, I can't stress how much I loved this class. And needless to say my quant score greatly improved by the end of the course. I highly recommend this class to anyone that is prepping for the GRE!"
– Noey R., Oakland, CA
"Yuri is a FABULOUS instructor! I say that as someone who has been in the field of education for 18 years. I know good teaching when I see it, and he is it. Having been out of school for so long - and not having done serious math in 20 years - I was really concerned about taking the GRE, especially the quant section. Yuri's course gave me the tools, practice and confidence I needed to do well. His is exacting, yet patient, humorous, encouraging, and totally non-judgmental. He pushed me to do my best, but was so sensitive and generous about walking me through things when I couldn't think straight. I can honestly say the three-hour sessions flew by."
– Pilar B., Oakland, CA
"I am a humanities major who took almost no math in college. After two and a half months of weekly tutoring with Yuri, I went from scoring in the low 150's on GRE math to a 163. I would not have been able to achieve my score in this time frame without Yuri's help.
Yuri offers a comprehensive program that will prepare you for GRE math. He demystifies the math section by explaining the main problem types on the test. He teaches the best strategies for tackling these kinds of problems by combining instruction with hands-on practice. Yuri is the math teacher I always wished I had, someone who can correct my mistakes in a memorable, friendly way.
Working with Yuri is not just the best way to prepare for the GRE math, he makes it fun."
– E.L., Berkeley, CA
"Yuri is absolutely superb. I worked with him for several months on the GMAT, focused primarily on quantitative. Yuri can provide a comprehensive, introductory course or help you hone in on areas of weakness and improve those drastically. He finds a way to make even the most difficult or boring content more approachable without ever making you feel dumb for not knowing or understanding. He is by far the best tutor I ever had and would recommend him to anyone looking for an intelligent, flexible and affordable tutor."
– Tiffany O., San Francisco, CA
"I had the opportunity of a lifetime to attend a top tier Business School. GMAT was the only thing that stood between me and Biz school. One of my team mates recommended me to Yuri. From the first moment I was impressed with how Yuri was able to help me master Quant so quickly.
Yuri's mastery over Quant and Verbal is fantastic. However, I felt it was his gift of teaching that helped me learn and understand the concepts quickly and effortlessly. In addition, what really helped me was that Yuri held me accountable for all the homework that was required of me to do well on the GMAT in a relatively short period of time. With Yuri's help I was able to get into Business School and fulfill my lifelong dream. Through the process, Yuri has become a trusted partner - a person who I can count on, anytime I need to brush up on my Quant and Verbal skills. I absolutely and highly recommend Yuri if you are looking to master the GMAT."
– Lucky S., San Ramon, CA
"Yuri is the –best– tutor. After several months of studying for the GMAT on my own, one failed test, and still feeling lost (especially on the Quant. side) I called him after reading through his Yelp reviews. He was able to fit me in, and by the end of our sessions my total score had improved by 150 points. He was able to break down the math questions to simple, understandable structures that worked for me every time. He also identified areas to study on my own, gave helpful homework assignments, and made sure we did not move on until I understood every detail. I got a great return on the money I invested in tutoring–a much better and personalized experience than I am sure I would have had in a test prep. class.
In addition to that, Yuri genuinely cares about his students. When I got closer and closer to my test date, he made sure I had enough time on his schedule, and made extra room to answer more of my questions. He has a great sense of humor, is very kind, and cannot hide that teaching is his calling in life. I am certain that I would not have scored competitively on the GMAT without Yuri's help, and would highly recommend him to anyone looking for help with standardized exams. I agree with all the other comments here–you can't find better than Yuri."
– Claire E., San Francisco, CA
"Yuri is a fantastic tutor and his techniques and shortcuts for GMAT quant and verbal problem types are very useful and awesome. His coaching style is very casual and patient. Definitely try's to adapt his style based on the student's needs. Apart from the lessons he teaches, Yuri is open to working with the student in coming up with study plans, solving random problem sets, and analyzing mistakes from mocks etc. Personally I have benefited a lot from the 2.5 months of coaching I have had with him - gained confidence in my skills, improved techniques on the ones I am slow or weak, and worked out better strategies for the exams. Glad to report that I have been able to bump from a score of 590 to 680 with help from Yuri. I would recommend Yuri to anyone who is looking for a genuine and sincere teacher and who is committed to helping you improve."
– K.F. Sacramento, CA
"Best tutor I have ever had!!! I can't begin to tell you how patient and passionate Yuri is. Yuri was extremely patient with me, an ESL student, while trying to explain math and especially English concepts. Yuri would not give up trying to explain a problem until you finally get it. He will mold to your learning style and try to teach you in a way that it will be easily understood. Yuri helped me improve my GMAT scores drastically, and he made me very confident about taking the test. Yuri will not only meet with you but will also provide you with homework in order to stay on track until your test date. I promise you that your time and your money will not go to waste. Yuri is a great tutor and I am very happy and satisfied with his tutoring services. Yuri really cares about his students and will always look out for their best interest."

– Vanessa P., Bedford, MA
"Yuri is an incredibly smart and talented tutor. Not only did he have answers to every one of my questions but also provided me with "mini-lessons" for each question to help me conceptually understand the problem. Yuri has an ability to make difficult problems easier to manage. I consider myself lucky to have learned from Yuri -- my score went from 630 to 700 during my studies with him. Yuri was extremely helpful in both quant and verbal. Halfway through my studies I moved to Boston and we went from in-person lessons to online/Skype lessons, which were very effective as well. I consider Yuri a friend of mine and look forward to staying in touch with him."
– Justin W., Fremont, CA
"I came to Yuri with some shaky math skills and about five weeks to prepare for my GMAT. Yikes.
Yuri's relaxed demeanor quickly calmed my nerves and made the daunting task seem manageable. His method of teaching was logical, well paced, and expertly delivered. For someone who suffers from a bit of math anxiety, Yuri was the perfect teacher.
I really appreciated his ability to reteach basic math skills and then provide real GMAT applications for these skills. He made me realize that I had already learned the math skills needed to do well on the GMAT--they simply needed to be revisited and put back to use. Also, his ability to figure out my learning style and taylor his teaching to fit my needs was truly fantastic!
In the end I increased my score by 110 points! I could have never done that on my own. If you want to see serious improvement on your GMAT score, you need Yuri."
– Morgan F., Oakland, CA
"Over the years, I had spent thousands of dollars on several GRE courses, books, etc. without successfully finding a program that helped me improve my score, and frankly I had given up on applying to grad school. This year, I decided to give it one last shot and found Yuri on Yelp. Yuri helped me raise my quant score by 11 points! His tutoring helped me improve my knowledge and understanding of math concepts that seemed impossible to grasp. Yuri is patient and takes the time to focus on the issues that you have challenges with. He puts difficult math concepts into a context that makes it easy for YOU to understand and more importantly, remember (conceptually) NOT memorize. I found Yuri's teaching methods so valuable that I drove 3 hours to and from every time I scheduled a session with him. Thanks to YELP for helping me find TestCrackers!"
– Yuli M., Sacramento, CA
"Yuri was an incredible tutor. We were mainly working on Math for the GMAT. Normally I hate math, but Yuri was able to almost make it fun on occasion. I saw a huge increase in my ability to do math. Although I often felt stupid studying for the GMAT, I always felt that Yuri respected me and my abilities. He is highly professional and utterly focused on your learning. I recommend him highly."

– Jodi S., Lafayette, CA
"Yuri is a great tutor. He is very patient and helpful. If you don't understand something, Yuri will gladly explain it until you get it. It's very hard to get this with other tutors. Often times, tutors will make you feel dumb if you don't understand something. Yuri, on the other hand, will walk you through a problem from different angles until you understand it.
I studied with Yuri for the GMAT for close to 3 weeks. Yuri and I focused on the areas that I was weak in and he taught me how to strategically approach each problem. He also summarized the entire sentence correction section for me in under 2 hours! Needless to say, I received a 650 on the test which I was very pleased with. I am confident in saying that I would not have been able to achieve such a high score without Yuri's help."

– Keivan R., Las Vegas, NV
"I had the chance work with Yuri with almost on an urgent need with the GMAT prep and I was happy I had contacted him.
Yuri was simply fantastic. He responded to me and gave me honest feedback how much he can help me and what to expect. And sure, his help was tremendous. He has a very calm presence and sure to know how to explain complicated topics accurately and in a very simple form that can be understood. He has ways of explaining some topics in different formats or ways that suits the person needing help.
I highly recommend working with him and he really cares and loves teaching the GMAT topics."
– Iyad K., Oakland, CA
"Yuri is amazing! He is the best!! I am an international student from Hong Kong, weak at math and am a non-native english speaker. Yuri is my super hero for helping me to prepare for my Gmat exam.
Yuri is super patient, encouraging and helpful. He guided me through the whole process, helped me to really understand the logic, theories of the questions. Yuri actually makes math interesting for me.
I am a very anxious person and suffered from insomnia for two weeks before my exam. Yuri is very caring and his encouraging attitude helped me to overcome some of my anxiety.
After 10 classes, i was able to boost my GMAT score by 80 points. I would recommend this great tutor to every one of my friends!"
– Gaby L., Berkeley, CA
"Yuri helped me achieve my target score in GMAT. Without Yuri's help and guidance, I would have struggled to reach my target score. He made me realize some of the key nuances that I needed to master in order to ace GMAT. Timing strategies, importance of checking the first 10-15 questions for any minor errors, confidence that he gave me etc were some of the key things that helped me a lot. Yuri was patient, and also critical when I lagged. I certainly enjoyed the classes and I kept getting better solving quants and verbal with every class. The best thing was he did not ask me to take additional classes the moment he knew I was ready for the test. If you are in need of a tutor, please consult Yuri and you will not regret it."

– Vindy S., Novato, CA
"Yuri is an excellent tutor. I came in with lacking math skills, and Yuri helped find which areas I was struggling with most and taught me how to strengthen them. He's friendly and takes his time with you if necessary. I was able to boost my GMAT score by 50 points to a 690 with his help. Highly recommended."

– Daniella O., Oakland, CA
"I can't recommend Yuri highly enough. The week before the GRE I did a practice test and discovered that I didn't remember anything from my high school stats class. Oops. I did a very last minute 2 hour session with him for GRE math prep. He had set aside material covering exactly what I had been struggling with, and was thoughtful and thorough in his explanations of the material.
The session was organized, efficient and encouraging. I scored higher than I had expected to, and above average for the programs I'm applying to. One session with Yuri was significantly more helpful than the multiple sessions I did with another tutor before the practice round of the GRE I did in March.
As I was leaving after our 7-9 pm session another student was coming in. Apparently Yuri doesn't sleep either. He might actually be a super hero."
– Annie B., Oakland, CA